Anthony Mordechai Tzvi Russell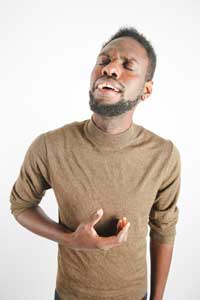 Four years after his San Francisco Opera debut and two years after his conversion to Judaism, Anthony Mordechai Tzvi Russell decided to devote himself to the music of Sidor Belarsky (1898-1975), one of the 20th century's most prolific performers of chazanut, Chassidic nigunim and Yiddish song. Anthony's work in Jewish music has brought him to the stages of the JCC in Manhattan and San Francisco, Symphony Space, the Ideacity Conference in Toronto, KlezKanada, the Montreal and Berkeley Jewish Music Festivals and the Ashkenaz Festival, a week-long celebration of the Jewish arts in Toronto.
In his unique explorations of Jewish and African-American diaspora culture, Anthony Mordechai Tzvi Russell's performances are inspired simultaneously by the sounds of tradition and a continuity of historic hopes for a redemptive future.
Offerings by Anthony
THE SIDOR BELARSKY SONGBOOK
Join Anthony Mordechai Tzvi Russell as he embarks on a voyage of exploration from his Christian, African-American, operatic roots into the rich, vibrant world of Yiddish and Chassidic music through the songs of Sidor Belarsky (1898-1975), one of the 20th century's most prolific performers of chazanut and Yiddish song.
CONVERGENCE
Convergence combines diverse strains of traditional Jewish and African-American music directly at points of spiritual, melodic and textual convergence. Anthony Mordechai Tzvi Russell, in collaboration with acclaimed Bay Area klezmer consort Veretski Pass, creates a new repertoire of works exploring exile, spirituality, hope and redemption, enhanced by the animation film work of San Francisco-based artist Meredith Leich.
WRITTEN IN BREATH: YIDDISH SONG AS COMMENTARY
Yiddish song presents yet another vibrant, relevant body of Jewish texts with which to engage, celebrate, and—of course!—argue about the continuities of Jewish spiritual and cultural life. Anthony Mordechai Tzvi Russell leads a lively discussion in which classic Jewish texts (Tehillim, Nevi'im and Talmud) are compared and contrasted with Yiddish texts in songs that are performed as a part of the presentation.
MORE ABOUT ANTHONY
"But what does that actually sound like? Imagine hybrids of old standards like "Sometimes I Feel Like a Motherless Child," about being a long ways from home, and Abraham Reisen's Der Gemore Nign," ("Are you homesick for your father, mother, sister, and brother, and without them, are you like a ship without a rudder?"). These aren't Glee-style mash-ups, but are astutely arranged to explore the exile, spirituality, hope, and redemption in both traditions—with Carpathian folk flute, of course."
— Jenny Levison, Jewniverse
"In the midst of all of this there was a short presentation by a young African [American] singer with a voice that mixed Paul Robeson with the late cantor Moshe Koussevitzky. He literally wove in and out of Eastern European Chazanut and old African American spirituals, and which had an almost shamanistic shape shifting affect on the audience. They just loved him."
— Geoffrey Clarfield, Times of Israel
"'There is a long history of African Americans choosing to illustrate, on an epic spiritual level, their struggle using biblical idioms, especially Jewish idioms, related to themes of redemption, freedom and exodus,' he said about the selection of the Exodus-themed songs at a museum opening focusing on the Passover text.
"'Blacks have tsuris, and Jews have tsuris,' he joked. And with songs that affirm both the black and Jewish expressions of suffering, 'we'll now have a way for everyone to talk about their tsuris in the same place.'
The ambition of Convergence is not only musical. Textually, Russell brings together speeches and poems from both traditions, including one that integrates civil rights leader W.E.B. Du Bois and British Zionist Israel Zangwill, and another that combines black poet Langston Hughes and Jewish vaudevillian Sophie Tucker.
Russell is also playing with the ways that traditions confer authenticity on songs and culture. Despite the postmodern touch of this aspect of the project, and the occasional moments of humor, Russell explains that the work is born out of a heartfelt, passionate need to bring two cultures, and two aspects of himself, further together."
— Dan Shifrin, The J Weekly
"Back in 1949, when I was barely 12-years-old, I heard a 78 rpm recording of the great black American operatic star, Paul Robeson singing "Zog Nisht Kein Mol — Never Say You've Reached the Final Road" — the stirring Yiddish hymn of the wartime Jewish partisans. Even now I remember how very moving Robeson's rich bass voice was to my young ears still burning from tales of the Holocaust horrors that had ended only four years earlier. It was that same sense of deep emotion that overwhelmed me recently when I heard the voice of a budding new African-American operatic star, 32-year-old Anthony Russell. And he too was singing "Zog Nisht Kein Mol."
— Richard B. Cheznoff, The Huffington Post