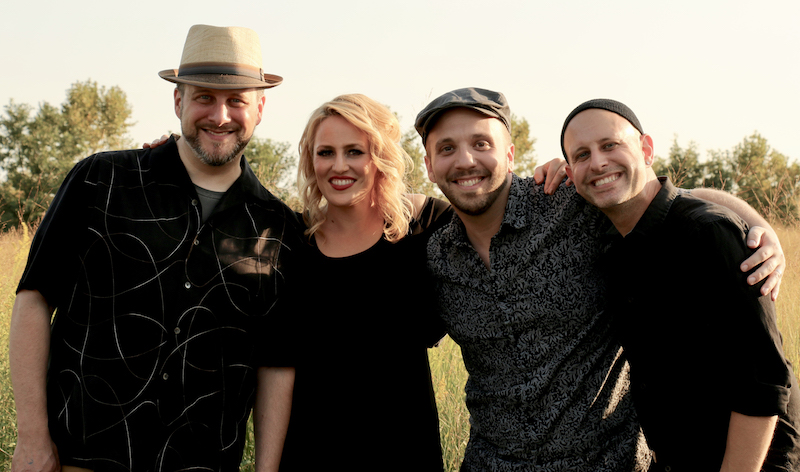 Listen Up! delivers harmony, humor and vocal pyrotechnics with a love and pride of being Jewish and connected to Israel that it's clear why the Chicago Tribune calls it, "Chicago's uniquely compelling Jewish vocal band." For 23 years as the "house band" (sans instruments) of the Greater Chicago Jewish Folk Arts Festival, the quartet brings warmth and sheer vocal power with a confident, easy manner that wins hearts (and ears) of audiences of all ages."Our music creates a special connection", says musical director, Steve Singer. "We are building that relationship from the first note… to energize and inspire. By the end of the show, we're family." With captivating vocals, rhythm and an artistic palette of diverse Jewish musical traditions, ListenUp! leaves no audience unaffected by their performance.
Listen Up! is based in Chicago.
Web Site: http://www.jewishsong.com
Offerings
Voices of Israel with Listen Up! Jewish Vocal Band
Let Listen Up!'s eclectic and powerful all-vocal performance take you on a musical journey through the State of Israel's miraculous 70 years. With warmth, humor, harmony and rhythm, get ready to explore (and sing!) seven decades of Israeli song that defined the Jewish state and inspired the world. Sari Greenberg, Steve Singer, Eli Taylor and Freddie Feldman share personal connections to Israel from the rousing songs of the Chalutzim (pioneers) to today's most-popular Israeli pop. Audiences of all ages will meet some of Israel's greatest songwriters and performers through their music and the poetry of their lyrics. In concert, get ready for immersion as Listen Up! uses technology in a fun and innovative way to remove all barriers to get audiences on their feet and singing. Those that want to take a deeper dive can join a Q and A afterglow or a Jewish a cappella master class to learn how songs are selected, arranged and developed for performance… and prepare a song to perform with Listen Up!
Listen Up!'s repertoire is varied and eclectic, including music of Issachar Miron, Ehud Manor, Naomi Shemer, Yaffa Yarkoni, Boaz Sharabi, Shlomo Artzi, Kaveret, Eyal Golan, Mosh Ben Ari and more.The Chicago Tribune writes, "What comes across in every moment of their performance is an adoration for singing — turning melodies and harmonies on their heads to come up with something unique and full of freshness and appeal. When redefining musical rules, it helps to be good — and Listen Up! is very good, lacking nothing in imagination and the ability to sell their vision of a song."
"When I first heard Listen Up!, I actually couldn't believe it! I am here in America, but feels as I am back home, in Israel. The songs and the group's the beautiful voices made me very emotional. Magic moments that you all have to experience!"
— Lior Kakon, American Friends of Israel War Disabled Foundation
Watch Listen Up! sing Eyal Golan's Jungle, join a rehearsal as the ensemble sings the Israeli national anthem, Hatikva, or watch Listen Up! compete (and win) at the Chicago 2017 Harmony Sweepstakes Competition.