Ari Lesser – Rhyme with Reason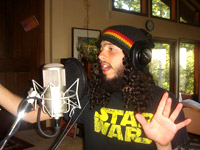 Ari Lesser is a singer, songwriter, rapper, and spoken word artist from Cleveland, Ohio. He graduated with a Bachelor's Degree in Political Science, and, more recently, spent time in Israel studying Torah in Tzfat and Jerusalem. He has performed all over the world, and written hundreds of songs on a wide range of subjects. Ari's repertoire is expansive, touching on everything from family, to animals, to politics, but now his focus and passion is making music based on the Torah. He will step into character and rap from the perspective of various personalities in the Bible, and he has also created rhymed translations of about one third of the book of Psalms, bringing their powerful message back into the realm of song. Ari's performance brings the Torah to life in a way that is inspirational, accurate, educational, and very entertaining for English speaking audiences of all ages and backgrounds.
Offerings by Ari
Spoken Word Hip Hop Show
1 to 2 hour set of original spoken word entertainment. Subjects range from personal, to political to spiritual.
Animal Raps
Crowd names any animal they want, and Ari does a scientifically accurate rap from that animal's perspective. Fun for the whole family!
Torah Edu-tainment
Stories of the Torah brought to life with songs from various biblical personalities, and rhymed translations of Psalms.
Live Concert
Pick your favorite local musicians, and Ari will come and perform with them live.
Motivational Speaker
Ari explains what led him to become a rapper, activist, and Baal Teshuva. Interspersed with original songs and raps. Followed by Q and A.
Writing Workshop
Spoken word presentation to inspire students, followed by a workshop where Ari gives them advice and techniques, to help express themselves through poetry and hip hop.
Shabbaton
Hip hop Kabbalat Shabbat service. Rhymed translation of Eishes Chayil. Hip Hop Psukei D'zimra. Original spoken word entertainment during and after meals.
Hip Hop Hazzan
Ari leads a traditional prayer service combining classic hebrew melodies with his own rhyming translations of the siddur.
Custom Song Writing
You choose the subject or content and Ari transforms it into rhyming song lyrics which you can use as you see fit.
Quotes about Ari Lesser
"His long black curly hair is a throwback to the Nazir, and his Chabad black hat makes him an appealing character to the mystics. Throw that together with his 1000 animal beat box raps, widely popular and irreverent pro-Israel poetry jams, soulful hip hop lessons in Jewish Bible and rabbinic sages, all from a soulful person that is an incredibly talented musician and you have Ari Lesser, meet him in person and you will make sure that you find the budget. His message always has an educational component even when you think you're just listening to music, and he is great for diverse ages. Huge fan!"
"Ari creatively blends Jewish ideas with a form of art that is not typically associated with the Jewish tradition. He is able to relate to both children and adults alike. Even people in the older age group that usually would not have an appreciation for rap or reggae enjoyed his performance. His uniqueness is his ability to appeal to both the religiously involved and secular crowds. Ari is very energetic and his music is inspiring. His pleasant disposition puts people at ease, creating an enjoyable atmosphere. We are looking forward to Ari's next performance for us!"
"After meeting Ari and watching his brilliant anti-BDS "Boycott Israel" video, I was hooked! This guy has it all and can reach out and touch every soul, regardless of age or religious practice. He's a breath of fresh air and a talented artist. We're thrilled he'll be performing at LIMMUD MIAMI."
"Ari kept a room full of well over 100 kids, ranging in age from 4 to 14 years old, engaged and excited with his crafty rhymes and winning presence. His interactive performance had us all humming the tunes for the rest of the day."
"I made a Chanukah Cocktail event on the first night of Chanukah 2013 and hired Ari Lesser to perform at the event. All the people who came really enjoyed his amazing talent and after the event, I got loads of positive feedback from people saying how amazed they were by this talented young man! I can personally testify that he is very talented in composing his songs and a great performer with a lot of passion and enthusiasm. I would highly recommend him to anyone looking for a great time and a lot of inspiration."
"We had the pleasure of welcoming Ari Lesser to our community to give a concert as part of our annual Hanukkah celebration. Though the room was not the most conducive venue for such a concert, he very quickly managed to engage our young people with his clever lyrics and hip hop style. He had all our children clamoring around him wanting to sing with him, dance with him and participate in his concert. He was equally captivating for the adults in the room. Ari's music is creative, innovative and engaging while his lyrics are compelling, instructive and engrossing. A talented musician and a mensch of a human being, Ari will work with your community to design both a concert and educational workshops to help engage and educate your community. His repertoire includes sophisticated reimagining of our siddur along with music from the Psalms, and wonderful raps on the animals of Noah's ark and our Biblical characters. I would strongly encourage communities to bring in this very talented young rising star."