Celebrating Five Decades Together!
Please click here for a 50 year Kol B'Seder photo montage.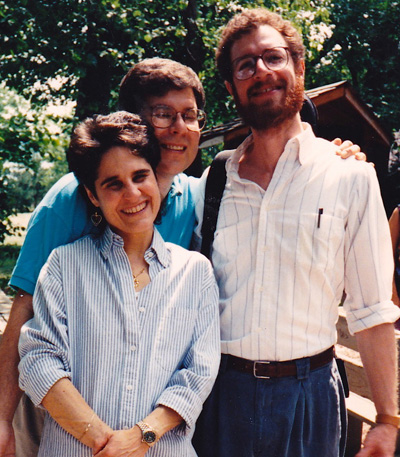 The popular Jewish-musical duo Cantor Jeff Klepper and Rabbi Dan Freelander – authors of classics like "Shalom Rav" and "Lo Alecha" – sing their greatest hits and comic satires, plus the music of the late Debbie Friedman, with whom they performed over four decades.
Kol B'Seder has been a mainstay on the American-Jewish scene for an astounding half-century! They remain true to their founding mission: promoting Jewish identity and education, erasing boundaries and divisions, uniting the Jewish community in song. Kol B'Seder's concerts draw on their greatest hits, Israeli and traditional music, with a message that resonates across every age group.
Kol B'Seder Concerts and Programs
Community & Family Concert • Shabbat Worship • Holiday Concerts
…Featuring Your Volunteer Choir!
Bring KB to your community as they celebrate 50 years of creative Jewish music. Sing and clap along with their legendary familiar songs. Give your community choir and musical friends the opportunity to perform with Jeff and Dan in a "Kol B'Seder Choir" created for your special event.
Special Programs & Lectures
Guest Composer Shabbat Service
From "Shalom Rav" and "Haporeis Sukat Shalom," to "Open Up Our Eyes" and "Yeish Kochavim," Kol B'Seder's melodies are woven into the fabric of American synagogue music. A service with Dan and Jeff on your bima, enhanced (optionally) by your Volunteer Choir is an unforgettable experience. If requested, Kol B'Seder's entertaining sermon-in-song illustrates how their music came to be.
A Legacy of Song: The Music of Debbie Friedman
Join us in honoring the world-changing contributions to Jewish music created by the late Debbie Friedman, the modern-day Miriam of Jewish Song. From "Alef Bet" to "Mi Shebeirach," her creations propelled synagogue music into the 21st century.
Jewish Humor: Songs You Never Learned In Shul
What better way to poke fun at ourselves than through song? The hilarious satire of 20th century giants like Allan Sherman and many others reveals much about the Jewish search for cultural identity in America. Laugh with Jeff and Dan's "Dr. Demento-style" songs, live and on video, with an opportunity for conversation on the many meanings of Jewish comedy.
Bob Dylan's Jewish Blues
Explore Bob Dylan's spiritual journey from his earliest songs to more recent work, through video clips, live-singing and discussion. Of Jeff's original Dylan parodies, historian David Kaufman writes: "The effect is hilarious, nicely displaying Klepper's ability to both "channel" Dylan and project Jewishness onto him…gently mock[ing] Dylan's lack of overt Jewish religiosity, all at the same time."
QUOTES ABOUT KOL B'SEDER
"Perhaps the most famous duo in contemporary Jewish music…often likened to Simon and Garfunkel, the duo is at the forefront of the Jewish rock/folk scene."
– Jewish News of Greater Phoenix
"All those who love Jewish tunes and words will find a home in the music of Kol B'Seder. Their music is a blessing to the American Jewish community."
– Rabbi Jeffrey K. Salkin
"Their genius—musically, liturgically, in terms of the spirituality of what we need, emerges every single time we sing Shalom Rav—it speaks to exactly what we need right now."
-Rabbi Rachel Sabbath-Beit Halachmi
"Cantor Jeff Klepper and Rabbi Dan Freelander have been combining Jewish tradition and contemporary folk-rock, putting prayers to music that sings to our hearts, shaping the music that's sung in our camps, in our youth movement, in our synagogue services, encouraging generation after generation of young Jewish singer-songwriters. They are as relevant and inspiring today as when they began in the early 1970s. They have created the Jewish songbook of our lives."
– Rabbi David Saperstein