Celebrating Five Decades Together
Please click to hear an amazing 50 year retrospective of their singing on this reel.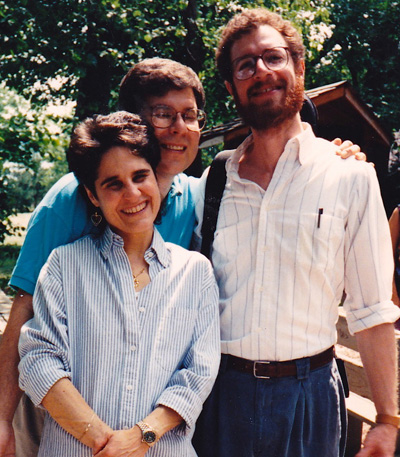 The popular musical duo Cantor Jeff Klepper and Rabbi Dan Freelander – authors of classics "Shalom Rav" and "Lo Alecha" – sing their greatest hits and comic satires, plus the music of Debbie Friedman with whom they performed over four decades.
Kol B'Seder Concerts and Programs
Debbie Friedman Tribute Concert
Debbie, Jeff and Dan were close friends and sang together countless times. Kol B'Seder's tribute to Debbie highlights
her most beloved songs, along with the duo's greatest hits, traditional songs, stories and reminiscences. Let Kol
B'Seder help bring your community together to recreate the joyful spirit that was at the core of Debbie's music.
Family or Religious School Concert
Be ready to sing, because nobody gets an audience singing faster or brings the generations together like Kol B'Seder.
The kids and teens know their songs from camp, religious school and youth group. Parents literally grew up on their
music, and baby boomers love the '60s music references. Perfect for Sunday morning or afternoon.
Kol B'Seder Community Concert
Kol B'Seder has been a mainstay on the American Jewish scene for decades, erasing boundaries and divisions, uniting the Jewish community. Kol B'Seder's concerts draw on their greatest hits, Israeli and traditional music, and the beloved songs of Debbie Friedman. (People who think that "Shalom Rav," "Modeh Ani," "Lo Alecha," and "Or Zarua" are 'folksongs' are in for a big surprise…)
Guest Composer Shabbat Service
From "Shalom Rav" and "Haporeis Sukat Shalom," to "Open Up Our Eyes" and "Yeish Kochavim," Kol B'Seder's melodies are
woven into the fabric of American synagogue music. A service with Dan and Jeff on your bima, (with, optionally, your
volunteer choir or synagogue band) is an unforgettable experience. In addition to the liturgy, Kol B'Seder's
entertaining sermon-in-song illustrates and teaches how their music came to be.
'Hands On' Workshops
Kol B'Seder offers two special workshops:
– Teaching With Music (for teachers and songleaders). Learn how to use music to add excitement and
enrichment to lessons on Torah, Jewish values, rituals and prayers.
– Sing a New Song (for volunteer choirs and singers). For those who love singing in harmony, Jeff and Dan teach some of their best-known songs arranged for 2, 3 and 4-part choir. Most are unpublished, but they may be used afterward to enrich your Shabbat services.
Entertaining Lectures
– Songs On Fire: How "Camp Music" Changed The Way We Pray In the late 1960s they attended Jewish summer camps and soaked up every song they heard. Just a few years later, Debbie Friedman, Jeff Klepper, and Dan Freelander were composing melodies that would radically change the way Jews sing and pray. In this entertaining lecture illustrated with dozens of songs, Kol B'Seder explains how it all came to be. (If asked, they will offer an educated guess of what new styles of synagogue music may be coming in the future.)
– Songs You Never Learned In Shul What better way to poke fun at ourselves than through song? The hilarious parodies and satires of giants like Allan Sherman, Tom Lehrer and Kinky Friedman reveal much about the Jewish search for cultural identity in America. Kol B'Seder has been singing Jewish parodies for years to the delight of audiences across the country. You will laugh out loud to their live renditions and rare video clips. See if you can guess the voices of celebrities trying their best to sing in Hebrew and Yiddish, and cast your vote for the worst "Hava Nagila" ever recorded.
QUOTES ABOUT KOL B'SEDER
"Perhaps the most famous duo in contemporary Jewish music…often likened to Simon and Garfunkel, the duo is at the forefront of the Jewish rock/folk scene."
– Jewish News of Greater Phoenix
"All those who love Jewish tunes and words will find a home in the music of Kol B'Seder. Their music is a blessing to the American Jewish community."
– Rabbi Jeffrey K. Salkin
"Klepper and Freelander compose original melodies for both liturgical and English texts in a bright, rock-n-roll style. All of their albums are terrific."
– The Jewish Review