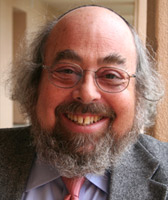 RABBI WAYNE DOSICK, Ph.D. is the founder and spiritual guide of The Elijah Minyan, an adjunct professor at the University of San Diego, the director of The Soul Center for Spiritual Healing, and the host of SpiritTalk Live!:  Journeys into Mind, Heart, and Soul, a weekly Internet radio program, heard on HealthyLife.net and spirittalklive.com.
Rabbi Dosick is author of more than four hundred articles and newspaper columns, and the best-selling, award-winning author of eight critically acclaimed books, including the now-classic Living Judaism, the visionary Soul Judaism, the spiritually uplifting 20 Minute Kabbalah, the much beloved Golden Rules, and the inspiring When Life Hurts. He was an early pioneer in Jewish video, creating  The Video Synagogue (1982) which brings religious services by means of videotape to those confined to home or a health care facility.
Rabbi Dosick's trans-denominationalism in the Jewish world is evidenced by his full memberships in the Rabbinical Assembly,  the Central Conference of American Rabbis,  and Ohalah (the Association of Jewish Renewal Rabbis). He is a past president of the San Diego Rabbinical Association. For six years, he served on the national Board of Directors of Mazon:  A Jewish Response to Hunger, where he chaired The Rabbinic Table,  and now serves on its prestigious Advisory Council. He is a master teacher who has taught in settings as diverse as:  The Aleph Kallah, Elat Chayyim, Ruach HaAretz, the (West Coast) National Havurah Institute, and the Wexner Foundation.
He has been awarded honorary doctoral degrees from both the Hebrew Union College  and the Jewish Theological Seminary, making him one of the few rabbis to be honored by both America's Reform and Conservative seminaries.
Articles about Rabbi Dosick and his books have appeared in more than 85 newspapers and periodicals, and he has appeared on more than 150 radio and television shows, including "Good Morning America," the Larry King Show, CNN, and NPR.  He has spoken and conducted seminars, workshops, and has been scholar-in-residence at more than 200 bookstores, synagogues, churches, schools, universities, and seminaries, hospitals and health care facilities, businesses and corporations, and community organizations throughout the country.
Rabbi Wayne Dosick has been described as a "rational intellect with the soul of a mystic," for he is well-known for his quality scholarship and sacred spirit, his commitment to social justice and enduring ethical values, and his lifetime of guiding people to a deep, personal, intimate relationship with God.